Preparing for Service
$60.00
Includes 180 days access
Course Overview
International service learning can be a powerful, life changing experience that can help build greater awareness of global/local issues while also building greater self-awareness and understanding. However, there's a large and growing body of academic research (see below) that demonstrates that the impact of service learning experiences and consequently the effectiveness of service learning participations is mediated, to a large extent, by how prepared they are for the experience. This course is designed for individuals who are planning on participating in an international service learning experience and who want to be prepared for challenges of living and working in a foreign culture. The program also focuses on effective methods for supporting community-based projects and organizations. The curriculum of this course is based on findings from the academic literature on cross-intelligence, materials developed to prepare U.S. Peace Corps Volunteers and best practices in supporting community-based development.
Course Details
This self-directed online training program is designed to be taken independently by participants on their own schedule and there are no "live" sessions. Once logged-in, students will have access the course for 6-months (180 days) from the date of their first access to the class. Participants who successfully complete this training will be awarded the "Preparing for Service" badge certified under the Mozilla Open Badges protocol. Open Badges are visual tokens of achievement that are sharable across the web. This course requires approximately 10 hours of student work, each module includes a brief exam to test comprehension of course materials. Exams can be taken as many times as required to achieve a passing score.
Interested in a customized version(s) of this training for your service learning program?
Village Earth can tailor this course for your service learning organization and programs, including specific for all phases of the service learning experience including customized exams and pre and post service evaluations. For more information contact [email protected] or call 970-237-3002 Ext. 504.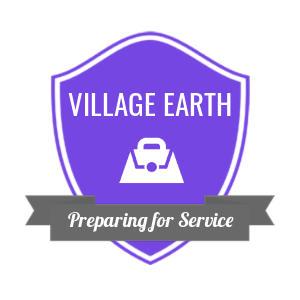 Bibliography
Adler, Nancy J., and Zeynep Aycan. 2018. "Cross-Cultural Interaction: What We Know and What We Need to Know." Annual Review of Organizational Psychology and Organizational Behavior 5 (1). Annual Reviews: 307–33.
Ang, Soon, Linn Van Dyne, Christine Koh, K. Yee Ng, Klaus J. Templer, Cheryl Tay, and N. Anand Chandrasekar. 2007. "Cultural Intelligence: Its Measurement and Effects on Cultural Judgment and Decision Making, Cultural Adaptation and Task Performance." Management and Organization Review 3 (3). Wiley Online Library: 335–71.
Antonacopoulou, Elena, and Jay Kandampully. 2000. "Alchemy: The Transformation to Service Excellence." The Learning Organization 7 (1): 13–22.
Bringle, Robert G., Julie A. Hatcher, and Patti H. Clayton. 2013. Research on Service Learning: Conceptual Frameworks and Assessments. Stylus Publishing, LLC.
Hayward, Lorna M., and Ann L. Charrette. 2012. "Integrating Cultural Competence and Core Values: An International Service-Learning Model." Journal of Physical Therapy Education 26 (1). journals.lww.com: 78.
Kiely, Richard. 2004. "A Chameleon with a Complex: Searching for Transformation in International Service-Learning." Michigan Journal of Community Service Learning 10 (2). Michigan Publishing, University of Michigan Library. http://quod.lib.umich.edu/m/mjcsl/3239521.0010.201?rgn=main;view=fulltext.
Lavery, Shane, Dianne Chambers, and Glenda Cain. 2017. Service-Learning: Enhancing Inclusive Education. Emerald Group Publishing.
Liang, Xin, and Gang Zhang. 2009. "Indicators to Evaluate Pre-Service Teachers' Cultural Competence." Educational Research and Evaluation: An International Journal on Theory and Practice 22 (1). Taylor & Francis: 17–31.
Meaney, Karen S., Heidi R. Bohler, Kelcie Kopf, Lesley Hernandez, and Latosha S. Scott. 2008. "Service-Learning and Pre-Service Educators' Cultural Competence for Teaching: An Exploratory Study." Journal of Experiential Education 31 (2). SAGE Publications Inc: 189–208.
Michailova, Snejina, and Dana L. Ott. 2018. "Linking International Experience and Cultural Intelligence Development: The Need for a Theoretical Foundation." Journal of Global Mobility: The Home of Expatriate Management Research 6 (1). emeraldinsight.com: 59–78.
Ng, K. Y., L. Van Dyne, and S. Ang. 2009. "From Experience to Experiential Learning: Cultural Intelligence as a Learning Capability for Global Leader Development." Academy of Management Learning & Education 8 (4). amle.aom.org: 511–26.
Pompa, Lori. 2005. "Service-Learning as Crucible: Reflections on Immersion, Context, Power, and Transformation." In Service-Learning in Higher Education: Critical Issues and Directions, edited by Dan W. Butin, 173–92. New York: Palgrave Macmillan US.
Reichard, Rebecca J., Shawn A. Serrano, Michael Condren, Natasha Wilder, Maren Dollwet, and Wendy Wang. 2015. "Engagement in Cultural Trigger Events in the Development of Cultural Competence." Academy of Management Learning & Education 14 (4). amle.aom.org: 461–81.
Rosenbusch, Katherine, Leonard J. Cerny Ii, and David R. Earnest. 2015. "The Impact of Stressors during International Assignments." Cross Cultural Management: An International Journal 22 (3). emeraldinsight.com: 405–30.
Shaffer, Margaret A., David A. Harrison, Hal Gregersen, J. Stewart Black, and Lori A. Ferzandi. 2006. "You Can Take It with You: Individual Differences and Expatriate Effectiveness." The Journal of Applied Psychology 91 (1). psycnet.apa.org: 109–25.
Taylor, Kari B., Susan R. Jones, Rachel Massey, Jasmine Mickey, Danyelle J. Reynolds, and Torrie Jackson. 2017. "Examining Developmental Readiness in an International Service-Learning Context." Journal of College Student Development 58 (5). Johns Hopkins University Press: 685–703.