Time is running-out to make your tax-deductible donation count in 2013!
[ujicountdown id="Blog Post Countdown" expire="2013/12/31 23:59″ hide = "true"]
Make a donation now and not only will you be supporting grassroots organizations around the globe realize their OWN strategies and solutions but as an added bonus, you'll also get a deduction on your 2013 taxes!
Why donate to Village Earth?
We believe the answer to global/local problems lies in the commitment, passion and creativity local, grassroots organizations.
Your donation has a bigger impact when it's being used by local organizations to carry-out local solutions using local expertise, labor, and materials (rather than being used to support the salaries, travel, and lodging for an expatriate staff)
. Rather than carrying-out projects ourselves, Village Earth's Global Affiliate Program empowers grassroots organizations around the globe directly with strategic, autonomy respecting assistance – creating a support structure for them to work with their own communities to realize their own strategies and solutions.
Your donation today makes all this possible, providing support without all the "strings" and pre-determined outcomes that come with come grants from foundations and governments.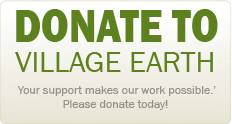 Use the button above to choose one of our 14 Global Affiliates or select "area of most need" and Village Earth will decide how to allocate your donation to have the greatest impact.