Looking to get rid of those horrible slippers that you got as a Christmas gift from your aunt in Boca Raton? Or maybe you recently upgraded your phone or gaming system and need to clear some space – here's a great way to get to get rid of that old stuff and benefit Village Earth at the same time. Now with eBay Giving Works, you can list your items and choose a percentage that will go to Village Earth once it's sold. Not only are you support a good cause, but your item will stand out to buyers with a blue and yellow ribbon logo displayed right next to the item's title. Charity listings on eBay have up to 30% higher sell through rates then non-Charity items and they sell for between 2-6% higher prices.

Here are some ideas on how you can use eBay Giving Works to support Village Earth. 
Host your own charity auction for Village Earth or one of our Global Affiliates
Get a tax-deduction for that old clunker vehicle, boat or RV in the driveway.
Liquidate the estate of a loved-one who has recently passed away.
Clean out that garage or attic.
To start listing items go to: http://givingworks.ebay.com/charity-auctions/charity/village-earth/65425/
Be sure to add Village Earth as one of your causes on eBay.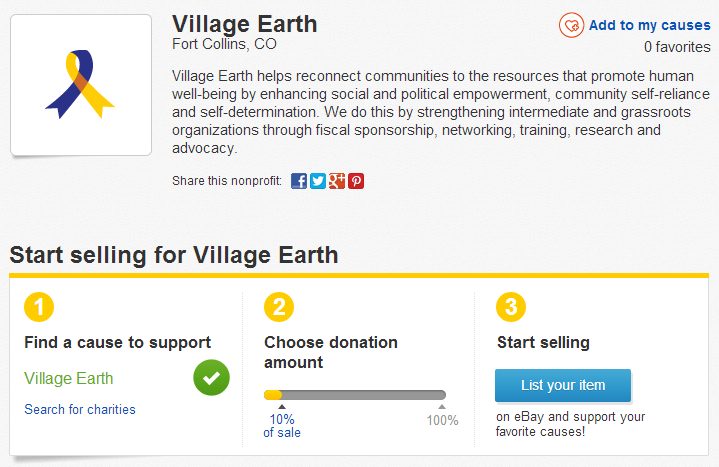 You can also donation directly to Village Earth on the eBay Giving Works site and get this, 100% of your donation will go directly to Village Earth. Another way to put this is that eBay/Paypal will cover all the transaction fees.